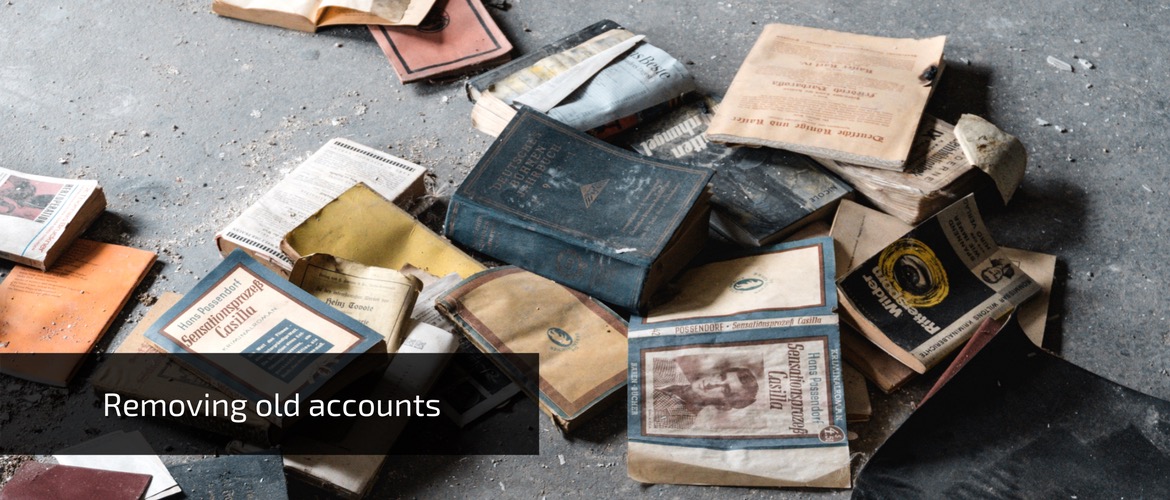 Whenever people say about New Year's changes they, mainly think about resolutions, plans and set up goals. But this is also a great time to small retrospective both your personal and digital life.
Let's talk about the digital once.
Do you realize how many registrations have you performed over the last year? Or over the last 5 years? Who did you give your email, personal data, photos, documents or other files to? Too often, it's too much to know about all this.
Think about each website, application or service which you used and you didn't use it for a long long time. Social profiles, cloud storage, dedicated tools and the other software. In each of them, you probably left some data. Maybe it's not relevant and doesn't have any value for you, but this information is about you.
What if one day, someone will get access to all of these data you left in the Internet?
Nothing lasts forever
I know, we all left a lot of data about ourselves only by browsing the Internet and our favorites sites. It's also interesting but let's leave this topic for another article. Instead, let's focus on abandoned accounts.
Services on the Internet grow quickly and it's easy to switch to another one. All you need to do is create an account. What do you do with your old account? If nothing, it's like me (until now).
Why don't I want to remove my old accounts?
I had many reasons why I didn't remove unused accounts. There are a few of them:
I thought I would need it yet
I'll not be able to use the same e-mail for a new account
I kept some data there and I didn't have any better place for them
My friends/family still used this service
I couldn't find an option to close the account
I had a really nice username 😉
Just in case…
Why should I delete my old accounts?
Time passed and I forgot about old accounts. I created new and abandoned old ones. Therefore, I received tons of newsletters, marketing messages, and other stuff from many companies. They knew my name, e-mail address, birthday and maybe another personal information. Some of these probably know much more. And nobody gives me the guarantee that my data is safe.
I thought I have to do a little cleanup, but first, I had to face my doubts. That was not easy, but I figured out a good explanation for each of them.
1. I think I'll need it yet
Yes, that's the common problem. I figure out the solution I've started following a similar rule which I use with newsletters. If I don't use a specific account but I think I'll use it in the future I add it to the quarantine. If I don't use it during this time, I'll remove it.
2. I'll not be able to use the same e-mail account for a new account
How likely is that I'll come back to this service in the nearest future? If the probability is high I leave an account as is but I remove my data from it.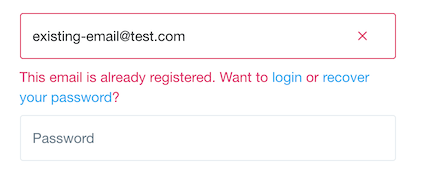 If you use Gmail, you can modify your existing email address by adding some dots or a plus sign.
Maybe it's worth to put this account to the quarantine, the same as in the 1st point.
3. I keep some data there and I don't have any better place for them
I've rejected this excuse quickly. My computer, backups or cloud storage on an account which I use regularly. Abandoned accounts aren't a good place for my data.
4. My friends/family still use this service
Do I lose a contact with my friends or family if I delete my account? Probably not. Moreover, don't I use this account anymore, yes? So, I probably already have an alternative way of communication. There is no excuse.
5. I couldn't find an option to close the account
Some old services don't have an option to close or remove the account. The only solution is to write an email to the help desk with an account removing requests.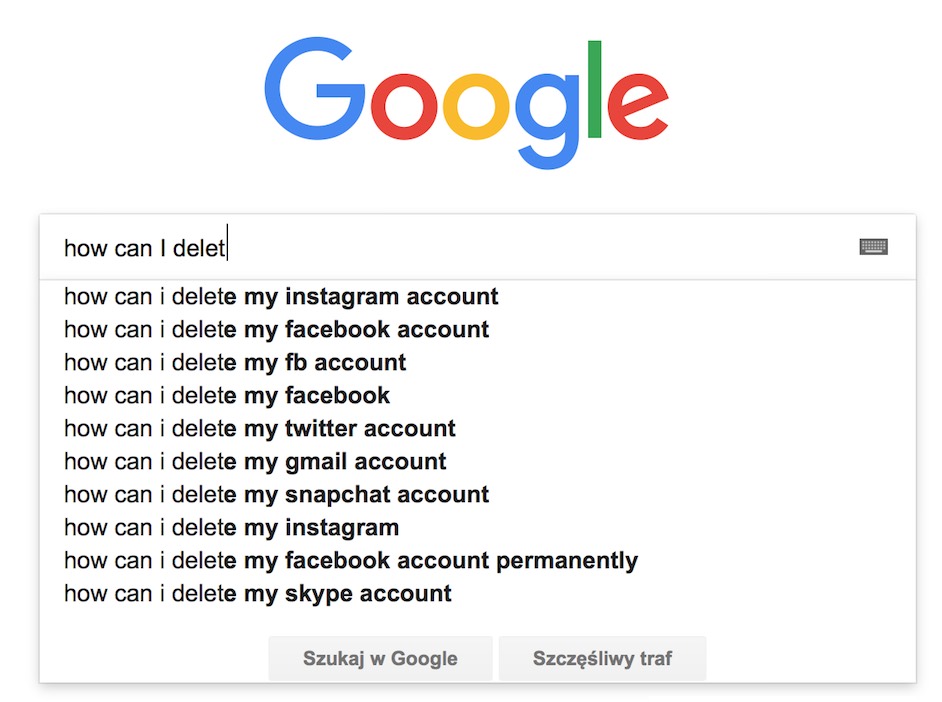 If you have a problem with finding an option to remove an account, you can check the site called Justdelete.me. It is "a directory of direct links to delete your account from web services" with most popular services and useful information how to perform the account deletion process.
6. I have a really nice username
It wasn't the most important factor in my case, but maybe in your case will it be?
If you are proud you have an account with a cool username, such as your first name, a single letter and so on, you can keep it. That's your choice. Many services don't allow reusing before used usernames. But if you don't use an account anymore is worthwhile to keep it just for keeping the username?
7. Just in case
Sometimes I can't find a proper reason why I should keep an account. Maybe this is a reason why should I delete it?
8. Why should I delete my old accounts?
Each service may contain a lot of data about their users. It depends on what it exactly is. Since simple services don't know too much, bigger ones like cloud storages, social media and e-mail accounts possess more data.
Let's do a quick think exercise.
Do you want to store a private information within abandoned accounts?
What if someday somebody gains access to your old account? Will you regret it? Will it hurt you in some way? Will you be ashamed of data that will leak, e.g. photos, notes or archival chats? If you're in doubt, you're on a good way.
Let's summarize. You don't need it. Nobody else shouldn't need it.
What did I find in abandoned accounts?
Some of my old accounts, e.g. Avast or Ubuntu One contain information about the system and my other devices. Moreover, Avast kept more data like my last known IP address or even space on my hard disk.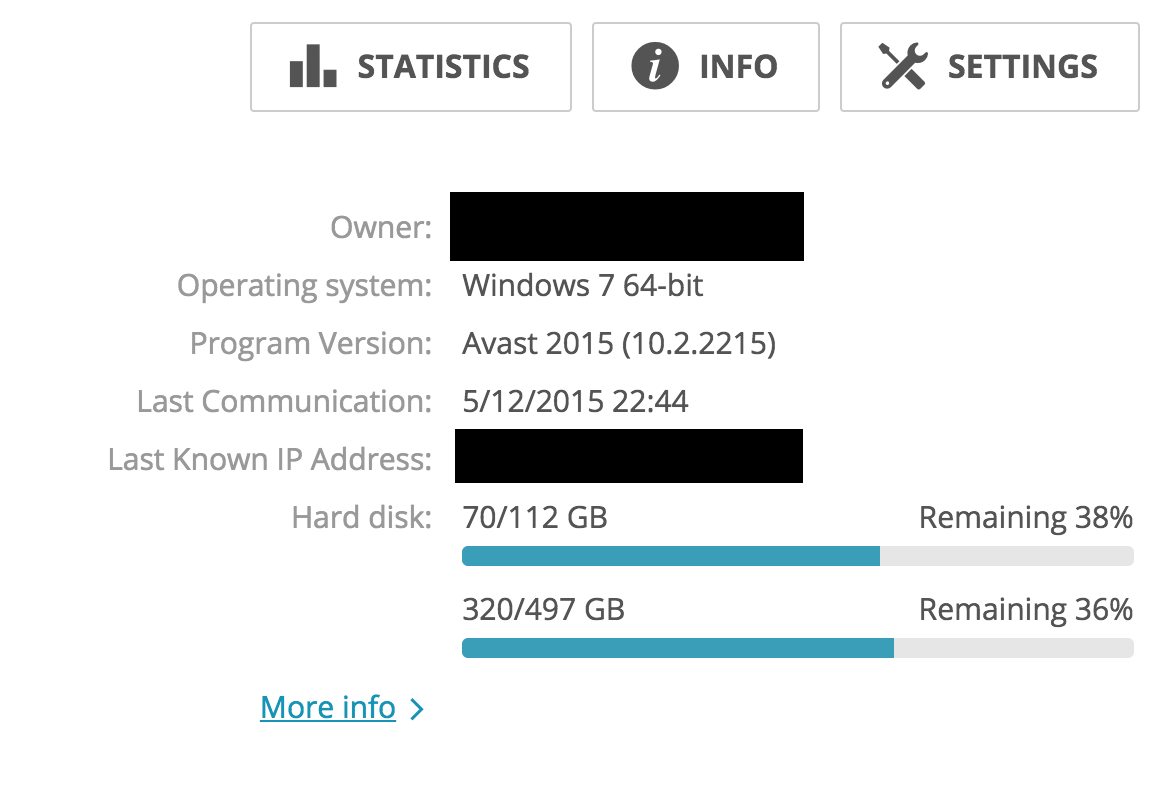 On my old AirDroid account, I found the information about previously connected devices.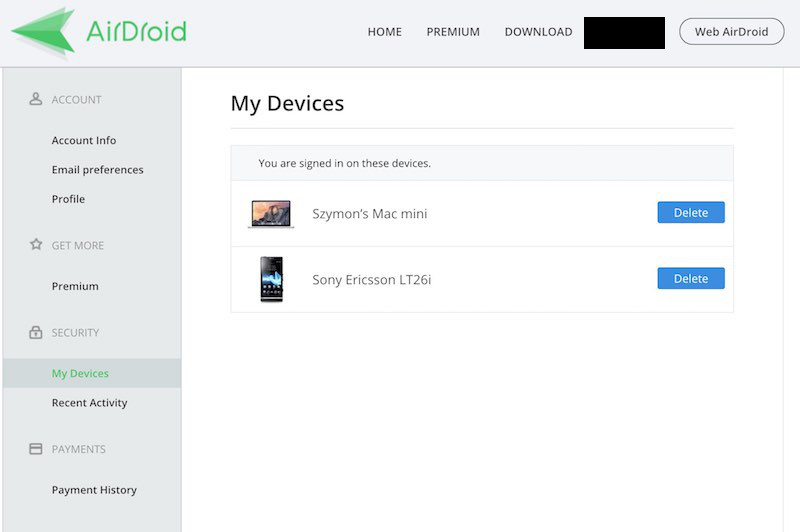 Although they contain neither personal nor important data, I just simply remove these accounts. That's the idea behind the clean-up. Besides that I found a couple of accounts which contains more interesting data:
My old e-mail account, with dozens of messages and information about other accounts and services,
Wunderlist.com account with my old lists and tasks,
Pastebin.com account with plenty of notes containing archival chats, logs, code snippets and so on,
StridesApp account with some old entries,
RescueTime account containing information about my computer, software usage, visited pages, etc.
Bookmarks at Chrome with tons of URLs which I've never visited anymore.
Above list is not completed yet, but should give you a small preview, what kind of data you could have left somewhere on the Internet.
Clean-up time
If you decided to perform some cleaning – good choice! I'll give you some hints at the beginning.
Start by identifying your old accounts. Accounts that you used to use but you completely forgot about them. Social media, online games, forums, instant messengers, online tools and services and so on.

If you use a password manager, you can run through entries to see which of you can delete.
Check your e-mail. If you don't clean your inbox regularly, you'll be able to find a lot of useful information about lost or abandoned accounts.

Sign in to each of this account, download all data which is relevant to you.
Remove an account. If you are in doubt, you'll come back to my list to see how I deal with it. Or you can write down your own reasons why you don't want to delete old accounts.
Summary
Since we don't have any special reason why we should remove old accounts, most of the people don't care about them. But data breaches are real and we have to be aware of them. The fewer places where our data are, the lower chance of the potential leak is.
Sometimes it's hard to get rid of all the old accounts because not every service gives a possibility to remove the account. But after 25 May 2018, when GDPR (General Data Protection Regulation) becomes effective, we as users and customers will give a powerful right called right to erasure. Time will show, whether it'll be effective or not.
I encourage you to take the responsibility of your digital life in your own hands. You can follow this simple rule: "If you don't need it, remove it.". We're living in the digitalized world where every piece of information matters. We shouldn't disregard it.
Resources
---
Featured Photo by Markus Clemens on Unsplash.