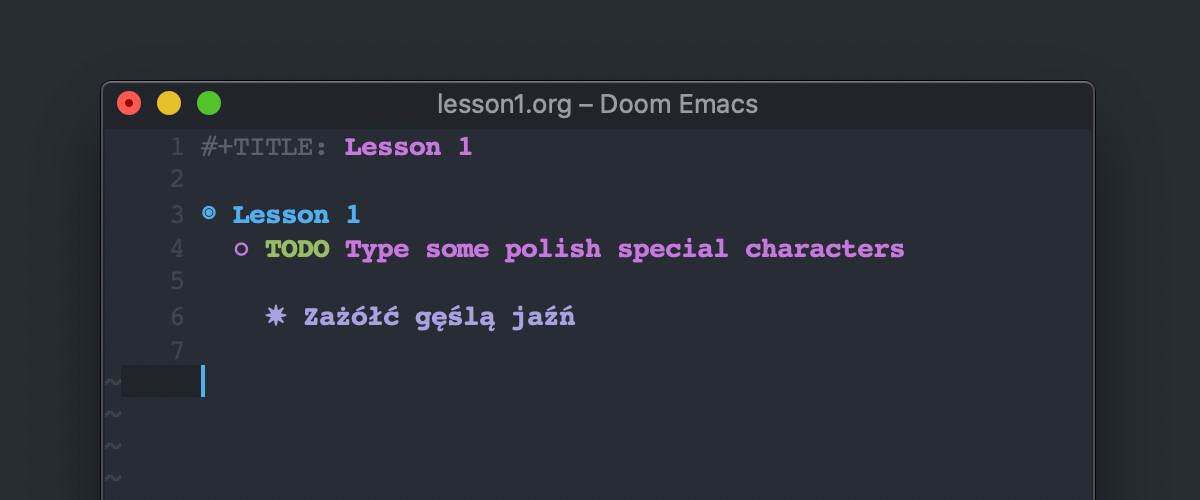 I've heard a lot of good things about Emacs and Org-mode package as the approach to write and organize plain-text notes. I recently found a doom-emacs project and I decided to give it a try. Unfortunately, in the default configuration, I was unable to type polish characters. Here are two solutions, how to fix it.
Problem
The option key in macOS is used to input non-ASCII characters, e.g., polish letters like "ąęść". However, in emacs, this key is used as a <Meta> modifier. Thankfully, emacs is highly configurable, so it's not a problem to change its behavior, including <Meta> key binding.
Preparation
You need to locate your configuration file. I use the doom-emacs configuration framework, so my configuration file is placed in ~/.doom.d/config.el.
After each change, you should sync your local configuration with the emacs configuration using the following command. I assume that you store your emacs configuration in the default directory. Otherwise, you have to locate the doom binary in your setup.
But first, let's go to your configuration. You can go to the list of your configuration files directly from doom-emacs by typing sequentially SPC f P (case is important). Then, select the config.el file and press RET.
Go to the bottom of the configuration file by pressing the g key once.
Solution 1: Use command key as <Meta> modifier
Since you need option key to behave in a standard way, you need to assign <Meta> modifier to another key. The emacs wiki proposes using command key as <Meta> modifier.
Put this snippet in your configuration file and sync it with emacs-doom.
(

setq

 

mac-option-key-is-meta

 

nil

)




(

setq

 

mac-command-key-is-meta

 

t

)




(

setq

 

mac-command-modifier

 

'meta

)




(

setq

 

mac-option-modifier

 

nil

)



In this case, you'll lose another modifier called <Super>. If you want to keep both <Meta> and <Super> modifiers bounded, you can use the second solution.
Solution 2: Use only left option key as <Meta> modifier
I use the right option key to write accents. It means that I can still use the left option key as the <Meta> modifier. Emacs allows you to change the behavior of different keys, so you can turn off a binding of right option key.
(

setq

 

mac-right-option-modifier

 

'none

)



Now, you can use left option as <Meta> and right option to write accents.
Have fun with Emacs but remember to get your things done!